Affordable payment plans available online now!
Turn one payment into easy bite-sized instalments with 'Buy Now, Pay Later' purchases. Payright offers flexible payment options so you can order your Healy World products today!
Healy World have partnered with Payright
to offer our members and customers in Australia 'Buy Now, Pay Later' payment plan options for select Healy products.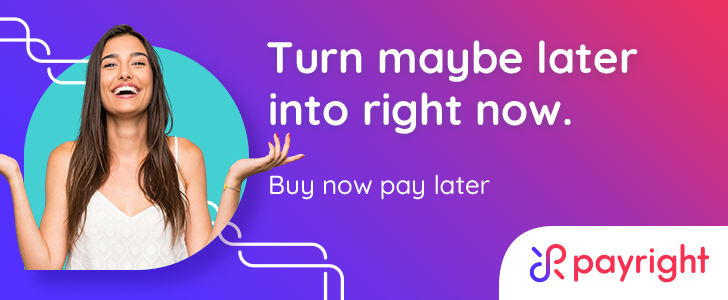 Payright is an Australian owned 'Buy Now, Pay Later' provider offering secure payment plans with zero interest. We offer our Healy World members and customers in Australia the opportunity to take advantage of Payright payment plans for your own purchases, and to assist in growing your Healy World business.

Order your Healy and we will ship out today*

Spread your repayment up to 6 months

Available on purchases up to maximum value of A$3,125

Zero interest

Low affordable fees

Australian based call centre open 7 days a week
*We aim to ship out all orders received by 12pm AEDT on the same day
Making your purchase on a Payright payment plan is quick and simple.
Simply add your chosen Healy World products to your cart
At checkout, select Payright as your payment method
Complete a short online application form, and get an instant decision
Payright payment plans are interest-free but there are some fees to be aware of, including:
Plan Length & Establishment Fee – between A$5 to A$39
Monthly Account Keeping Fee – maximum A$3.50 per month
Payment Processing Fee – A$2.95 per repayment
Visit Healy World Shop for Australia today to order your chosen products and select Payright at checkout.
What products can be purchased with a Payright plan?
All Healy devices can be purchased with a Payright plan – these include:

Healy Wellness Editions

Healy Watch

Healy Coil

Healy Accessories
Healy Upgrades, App Modules and Program Groups that are a one-time purchase can also be purchased on a Payright plan.
Minimum purchase value of A$150 to qualify for Payright option.
Any purchase more than A$3125 cannot use Payright.
Any
App Module
or
Program Group
that has a
recurring monthly subscription fee cannot be purchased
on a Payright payment plan.
How much credit is available?
value of up to A$3125 can apply for credit with Payright. A 20% deposit is required, so the maximum credit available is A$2500.
Do I need to pay a deposit?
Yes, a minimum 20% deposit must be paid. You may choose to pay a higher deposit if you prefer.
How long do I have to repay the loan?
Repayment period is 3 months (for credit up to A$1000) and 6 months (for credit up to A$2500).
Yes, an initial establishment fee of A$5 (3-month term) or A$39 (6-month term) is spread over the increments of your loan repayment. Payright charges a monthly account keeping fee of A$3.50 and payment processing fee of A$2.95. Payright's current process is to waive account keeping fees where there is no active plan.
Who can apply for a Payright Payment Plan?
All Independent Healy World Members or customers in Australia can apply to Payright. Payright will then apply the lending criteria and provide a decision in seconds.
Can I pay with Payright in New Zealand?
No. Payright is only available for orders by Healy World members and customers in Australia.
How will Payright process my application?
Payright will process your application by assessing the application information and ensuring that you can comfortably afford the repayments. Payright may request for additional information such as proof of income or bank statements to assess your application for approval.
Can Payright be used in the Healy World Shop online?
Yes, all Payright applications must be made online. Simply visit our Healy World Shop for Australia, add your items to the shopping cart and choose Payright as your payment method at checkout. 
Payments are taken automatically as scheduled from your nominated credit or debit card using a direct debit facility. You also have the ability to nominate a repayment start date. Once a start date is selected and the plan is activated, you will receive a welcome letter to confirm the initial repayment date and frequency. You can view your upcoming payment, and make additional payments by logging in to the Payright Customer Hub.
Can I make early payments or pay my plan out early?
Yes, you can make early payments or choose to pay your Payright plan out early. There is no penalty for making additional payments or paying out the agreement early. A payment processing fee will still apply to any payments made.
What if I want to return my purchase?
In Australia, Healy World offer a 14-Day return policy. Visit our Return Policy for more details or login to your Healy World account to contact our Customer Care team to check your options.
Can I make multiple purchases?
Yes, you can have multiple purchases and plans within the one Payright Account as long as you have the available credit limit. Customers are usually required to make a minimum of 3 repayments on their first plan before applying for another plan. There is a repeat purchase fee for additional plans, however for ease of payment, we combine all active plans into one repayment.
What do I do if I cannot afford my repayments?
If you experience problems with your repayments due to a change of circumstance, please visit Payright financial hardship page here for further information.
Can I close my account and are there any cancellation charges?
Provided you have a zero-balance owing on all Payright plans you can request your Payright account to be deactivated by contacting Payright on 1300 338 496 or click here for more options. There are no additional fees for closing your account or paying out early.
Notices:
The Individualized Microcurrent Frequency (IMF) programs of the Healy are not medical applications, and they are not intended to cure, treat, mitigate, diagnose or prevent disease. The information on these pages is for reference and educational purposes only. It should not be treated as a substitute for professional medical advice, diagnosis or treatment. You should always seek such advice from a qualified medical professional.
While Healy World endeavors to keep the information contained in these pages current, no warranty or guarantee concerning the accuracy, suitability or timeliness of information is made. Healy World is not responsible for any loss or damage resulting from the use of the information provided on these pages. All information is presented on an "as is" basis and responsibility for its interpretation and use lies solely with the user.
Healy World does not endorse nor have responsibility for the content of any other websites linked to or from this website.
Healy World, with the advice of its medical advisory board, allows its Members to only make claims that are contained in company materials meant for public distribution. Please contact the company concerning any claims about which you have questions.
Notice: The content displayed by the HealAdvisor App does not constitute medical or, in case of use with pets or other animals, veterinary advice. Such advice can only be provided by a medical or veterinary professional. The Individualized Microcurrent Frequency Healy programs are intended solely for harmonization of the Bioenergetic Field. If your animal has or you suspect your animal may have a medical condition, or if your animal is under the care of a veterinarian, you should consult the animal's veterinarian before following these recommendations. Any personal data you upload to the HealAdvisor Cloud is encrypted to protect your privacy.